Everyone has a wish to save the world and looking for inspiration to the Superheroes is a very good idea. We personally would love to get some from DC comics, for the alien Man of Steel, the Beacon of hope, or the gritty judge, jury, and executioner, The Dark Knight. On the other hand, many others would root for Marvel comics and be the Captain America, Captain Marvel, Hawkeye of their own worlds.
As we are inspired by them in many ways, we love to get their costumes and symbolize them in our own way. If you're going to a themed party, you're free to wear a costume but in case you want to keep it casual, a design of a superhero jacket is the perfect answer for you.
Over the course of hundreds of movies, thousands of comic book pages and tens of online stores, we have picked some trendy superhero leather jackets for you.
Smallville Superman Jacket
Smallville was one of the most popular TV shows in the 2000s and one of the longest TV series in history. The series focused on Superman's life as young Clark Kent that came with a lot of new costumes and leather jackets. However, the one we loved most was the red jacket with a big "S" written in a diamond shape that presents "Symbol of Hope" or also known as "House of El".
Brie Larson "Captain Marvel" Leather Jacket
We will be honest, Carol Denvers actually stole that jacket along the rest of the clothes she had on and the bike when she was exploring Earth. But you know that, right? If you don't, you gotta watch it, dude!
This pretty darn edgy jacket is totally unisex and perfectly stylish with its rugged vintage looks.
John Constantine Trench Coat
Sometimes we just wish to get the magic powers and extreme superpower and knowledge, and the fans of John Constantine know it. The trench code that Matt Ryan's Constantine wears is made of suede and in handsome beige color for a dashing look. Based on the style and design, you can literally wear it with anything.
Bruce Wayne "Gotham" Jacket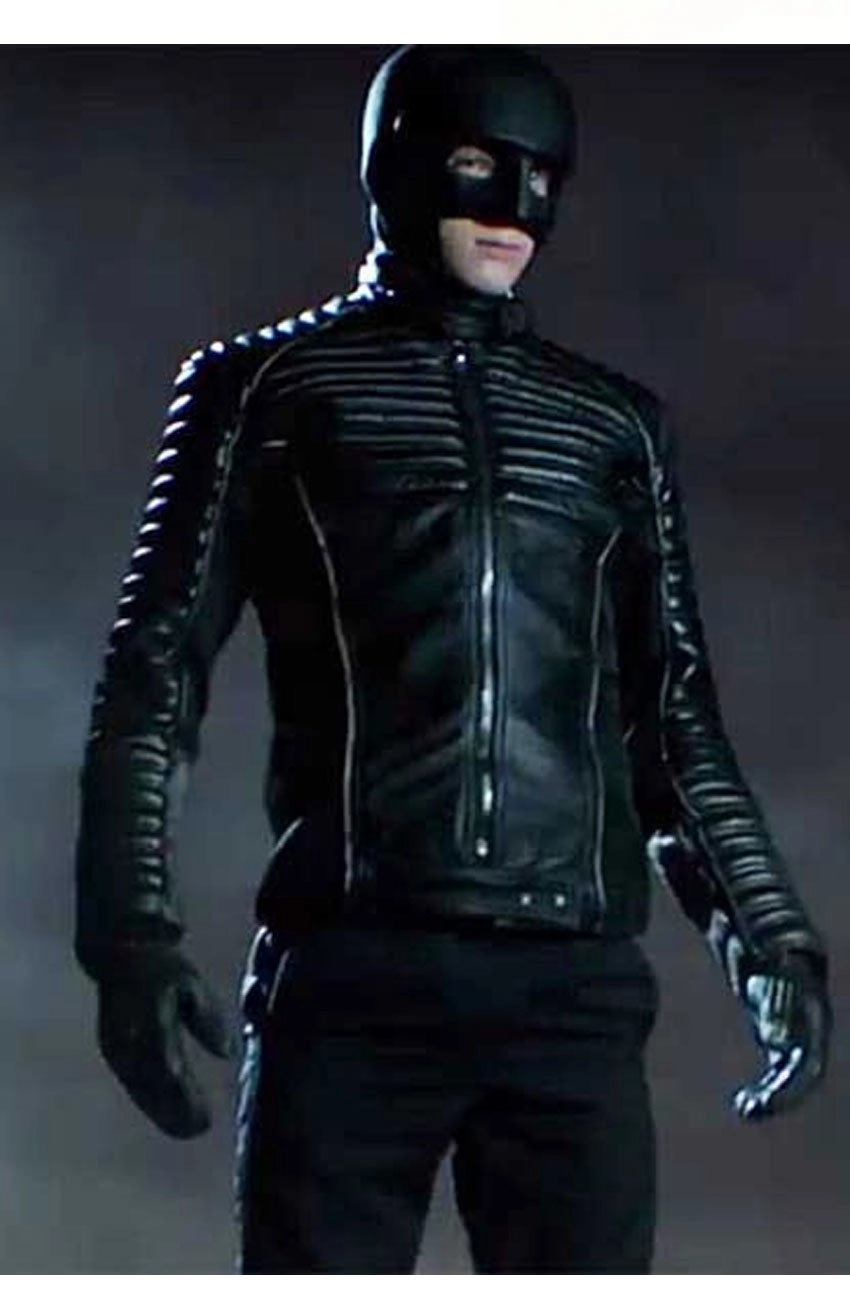 What was Bruce Wayne before he was The Dark Knight? Of course a kid, then a teenager. Gotham was a hit series about Bruce Wayne as a prequel to Batman mythos. The series received high ratings and came with a great choice of costumes. One of them was Bruce Wayne's leather jacket from the time he just began hunting crime as a teenager. It's such a gorgeous black shining armor made of leather to baffle your rivals. *winks*
Black Canary Leather Jacket
One of the most popular characters from the DC comics appeared on Arrow for all of 8 seasons and fans just couldn't get enough of it. Played by Katie Cassidy the character presented a perfect example of a female superhero and an unmatchable woman with utmost brilliance. Her leather jacket is one of the hits and all major leather stores and costume stores are selling this.
Hawkeye Leather Jacket
One of the most prominent characters from the Avengers series and one of the survivors of the Endgame during the war against Thanos. Hawkeye is a brilliant archer loved by many, always donning the black leather, shooting arrows into fans' hearts just like cupid. His all-over attire consists of a sleeveless leather jacket and leather pants emitting the rays of handsomeness. Donning his all-overs can be a great idea.
Hugh Jackman "Wolverine" Jacket
Last but not least, not even close, the GOAT X-Man we know as Wolverine has ruled our hearts for many years and continues to do so. Even though there won't be anymore Hugh Jackman's Wolverine movies, it's impossible for us to forget this elegant, legendary, and wild character. His main costume was literally a leather jacket with stripes that we all love and the design is one of the best selling designs around the world.